We are very grateful for the support of the following sponsors and organisations:
The UK Faculty of Public Health (FPH) is committed to improving and protecting people's mental and physical health and wellbeing. Our vision is for better health for all, where people are able to achieve their fullest potential for a healthy, fulfilling life through a fair and equitable society. We work to promote understanding of public health issues and to drive improvements in public health policy and practice. With over 3,900 members and associates we work to develop knowledge and understanding, and to promote excellence in the field of public health across allied health professionals and the entire public health workforce. www.fph.org.uk
Public Health England
PHE exists to protect and improve the nation's health and wellbeing, and reduce health inequalities. It does this through advocacy, partnerships, world-class science, knowledge and intelligence, and the delivery of specialist public health services. PHE is an operationally autonomous executive agency of the Department of Health. For more information on PHE visit www.gov.uk/phe or follow us on Twitter @PHE_uk.
NHS Employers
NHS Employers is the employers' organisation for the NHS in England. We help employers to develop a sustainable workforce, improve staff experience and be the best employers they can be.   Our practical resources and expert insights help make sense of current and emerging healthcare issues, to keep employers up to date with the latest thinking and ensure they are informed and equipped to support the NHS workforce.  We generate opportunities to network and share knowledge and we actively seek the views of workforce leaders to make sure their voice is front and centre of health policy and practice. We also lead the national collective relationships with trade unions on behalf of the NHS and the Secretary of State for Health and Social Care  www.nhsemployers.org @NHSEmployers
The Scottish Government
The devolved Government for Scotland is responsible for most of the issues of day-to-day concern to the people of Scotland, including health, education, justice, rural affairs, and transport. Our purpose is to focus Government and public services on creating a more successful country, with opportunities for all of Scotland to flourish, through increasing sustainable economic growth. www.scotland.gov.uk/topics/health
Chroma
Chroma is the UK's leading national provider of Neurologic Music Therapy services, which are commissioned as part of rehabilitation packages for people of all ages living with an acquired or traumatic brain injury, or who have long-term degenerative conditions such as Huntingdon's or Parkinson's. Chroma also provides Art Psychotherapy and Dramatherapy services for people facing issues ranging from dementia through to emotional, mental health-related and social problems.
Chroma's partners include private and NHS healthcare, local authorities and education establishments. Chroma has strong links with leading arts therapy organisations and research universities across the world, often acting as a leader in bringing evidence-based techniques, such as Neurologic Music Therapy to a wider cohort of patients. Chroma were a 2017 Advancing Healthcare Award winner and a category sponsor in 2018 and 2019. www.wearechroma.com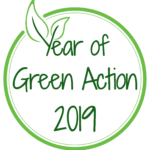 The government's 25 Year Environment Plan Year of Green Action 2019
There is good evidence that the natural environment plays an important role in supporting people's health and wellbeing. Recognising that our natural environment is our most precious inheritance the government's 25 Year Environment Plan sets out what we will do to protect and enhance the environment within a generation and connect people more deeply with nature. 2019 has been designated a Year of Green Action: the year people, businesses and organisations pledge to engage more closely with the natural world, improving our environment and benefitting our health and wellbeing. Make your pledge to take green action, share your inspirational stories and find out how to get involved at www.yearofgreenaction.org
The Guardian
Guardian News & Media (GNM) publishes theguardian.com, one of the world's leading English-language newspaper websites. Traffic from outside of the UK now represents around two-thirds of the Guardian's total digital audience. In the UK, GNM publishes the Guardian newspaper six days a week, first published in 1821, and the world's oldest Sunday newspaper, The Observer. www.theguardian.com/uk
The Department of Health, established by the Departments Act (NI) 2016, encompasses the functions of the former Department of Health, Social Services and Public Safety (DHSSPS). The Department has three main business responsibilities: Health and Social Care (HSC), which includes policy and legislation for hospitals, family practitioner services and community health and personal social services; Public Health, which covers policy, legislation and administrative action to promote and protect the health and well-being of the population; and Public Safety, which  covers policy and legislation for fire and rescue services. www.health-ni.gov.uk
Viapath 
Viapath is a unique partnership of clinical, scientific and operational expertise, with a mission to transform pathology services in the UK with state of the art tests to support clinicians to create better treatments and outcomes for their patients. The strategy of the organisation is to provide best practice tests across all pathology disciplines to hospitals, GPs and research organisations. Viapath is majority owned by Guy's and St Thomas' NHS Foundation Trust and Kings College Hospital NHS Foundation Trust. The integration of clinician, scientist and laboratory is central to our philosophy . Viapath has created an Innovation Academy to foster a dynamic, forward-looking culture. Its aim is to foster new and better ways to provision high-volume pathology as well as specialist reference testing.
The Welsh Government
The Welsh Government's areas of responsibility include the economy, health, education, and  local government in Wales. Welsh Ministers make decisions which affect people's daily lives, develop and implement policy, make subordinate legislation such as regulations and statutory guidance and propose Assembly Measures (Welsh laws). www.new.wales.gov.uk
Institute of Biomedical Science
With over 20,000 members in over 30 countries, the Institute of Biomedical Science is the leading professional body for biomedical scientists, support staff and students. For over 100 years we have been dedicated to the promotion, development and delivery of excellence in biomedical science within all aspects of healthcare, and providing the highest standards of service to patients and the public. By supporting our members in their practice of biomedical science we set quality standards for the profession through: training, education, assessments, examinations and continuous professional development.
Allied Health Solutions works with clinical and non-clinical staff providing health and care services to enable them to reach their potential. The scope of the activities is primarily, although not exclusively, in the public sector: health and care services; arm's length bodies, professional bodies and Higher Education Institutions. Significant experience as clinicians, leading and delivering clinical services, and leading workforce development at a local, national and international level. Expertise in providing academic and educational advice, clinical leadership, and leading and managing clinical service improvement across a range of organisations. In depth knowledge of the provision in the healthcare and educational sector. To find out more visit www.alliedhealthsolutions.co.uk
The College of Podiatry is the leading professional body for podiatrists in the UK and promotes foot health research, education and public awareness. The College represents podiatrists across Northern Ireland and the UK through awareness raising, political engagement and forging close working relationships with stakeholders within and beyond the health sector. The College seeks  to ensure the public has access to high quality foot care delivered by qualified and regulated professionals. www.cop.org.uk
The Council for Allied Health Professions Research (CAPHR)
 The Council for Allied Health Professions Research (CAHPR) is supported by 13 AHP organisations. Our mission is to develop AHP research, strengthen evidence of the professions' value and impact for enhancing service user and community care, and enable the professions to speak with one voice on research issues. With opportunities for learning, sharing, networking, collaborations, advice and support, CAHPR strengthens research activities and outputs facilitating the translation of research into practice and education. https://cahpr.csp.org.uk/
Academy for Healthcare Science 
The Academy for Healthcare Science (AHCS) brings together the UK's diverse and specialised scientific community who work across the health and care system and the academic sector to speak with one clear voice. The Academy's exists to:
Provide one clear voice for healthcare science
Influence and inform the health and care system on healthcare science and scientific services
Provide engagement and support for wider strategic scientific initiatives
Act as the overarching body for issues related to education, training and development, including standards and quality assurance.